I adapted Google's Material Design for an enterprise app UI.
LeanDNA is a fast-growing startup who helps manufacturers better understand and streamline their manufacturing processes. As the sole designer, I worked with the founder and key investors to streamline the core brand and product offering. I developed LeanDNA's usability, branding and UI.
LeadDNA was a fast-emerging startup in the ERP / enterprise metrics space. With outdated design and usability standards, LeadDNA saw the opportunity inherent in a rebrand and in an application with better usability and more modern design standards.
It all started with a spreadsheet.
We started with a navigation redesign.
We started by mapping the entire navigation of the current app. We prioritized feature sets using traffic via Google Analytics. Anything with low engagement was on the chopping block.
Shadow sessions with users in the field helped flesh out the challenge.
As part of the user research, we went out into the field and visited users on-site. This meant driving out to manufacturing facilities, seeing the factory floor and visiting the offices where the administrative staff worked. This kind of in-person ethnographic research yields all sorts of interesting results. The visit certainly helped put their work through the LeanDNA app into context.
We pioneered a three-level navigation
Scouring the internets, I couldn't find any example of a three-level navigation in anyone's implementation of Google's Material design standard—so we created it.
Data grids were a common feature of the LeanDNA app.
Adapting data grids to the enterprise space was a fun challenge. Based on my work with LeanDNA, I created an animated template for data grids that I've since adapted in many other projects.
Charts were another common feature. They had to be elegant, readable and packed with useful information.
Smokestack and trend line charts were two of the most common charts in the LeanDNA app. We iterated on the design of these charts until we had something that would work across data sets.
Common trendline charts got updates as well.
These kinds of charts were extremely common in the LeanDNA app.
A style guide cemented the vision for the UI and brand.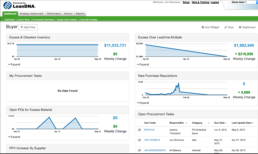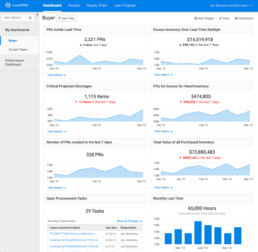 The updated app adapted Google's Material Design standards to an enterprise application. We were able to drastically update the look and functionality of the LeanDNA app without losing any of the density required by high-volume manufactures with complex workflows.