Enterprise resource planning app
LeanDNA was an app used by managers of large-scale enterprise businesses that had complex supply chain challenges. Many airline parts manufactures used LeanDNA to help them better manage supply chain difficulties.
CompanyLeanDNAYear2015Duration6 monthsMy workUser interviews, user testing, visual design, layout, information architecture, quality assurance, prototyping
LeadDNA was a fast-emerging startup in the ERP / enterprise metrics space. With outdated design and usability standards, LeadDNA saw the opportunity inherent in a rebrand and in an application with better usability and more modern design standards.
One of the largest opportunities LeanDNA saw was to streamline the app by removing parts of the app with low usage and focus their energy on areas with high user engagement.
Before starting with an update to the visual hierarchies and organization, we decided to tackle the structure of the app. We used usage and engagement as our evaluation rubric.
LeanDNA had two main groups of users. First were executives of enterprise organizations, who liked LeanDNA's ability to visualize data.
Second were daily users of LeanDNA who managed supply chains – factory floor managers, and specialists who ordered parts while attempting to keep inventory from ballooning in cost.
LeanDNA presented unique challenges
We had large clients and few users
As with many apps, the purchaser of the license was generally not the end user of the system
Users were in high-security areas like aerospace
Aesthetic and minimalist design – Clean, uncluttered design was the order of the day
Visibility of system status – Given the large amounts of SKUs and product data being searched, it was important to surface important information on upcoming or existing shortages, as well as inventory overstocks that added cost structure to businesses with narrow margins
Meet users where they are – Understanding the needs of each type of user helped us build tools that delivered on their promise
Recognition rather than recall – With lots of moving parts in a supply chain, we wanted to lower the amount of information that users needed to keep in their head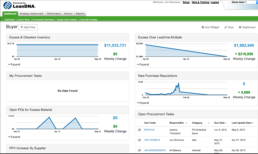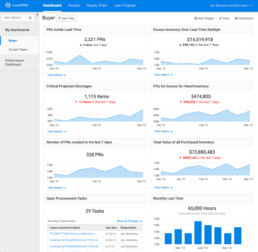 The updated app adapted Google's Material Design standards to an enterprise application. We were able to drastically update the look and functionality of the LeanDNA app without losing any of the density required by high-volume manufactures with complex workflows.
Aesthetic and minimalist design
Everyone in this space needed tools to help them make better decisions. A higher ratio of signal to noise would allow stakeholders in any area stave off fatigue and to leverage LeanDNA in their decision-making process.
Visibility of system status
LeanDNA was an intelligent application that could surface insights from large datasets, or from disparate groups of datasets. We needed to highlight the most important information in a way that would be seen by users.
Recognition rather than recall
Visualizing reality can be complicated. We wanted to show as much as we could without creating additional noise.
Create a problem statement
Define the project scope
Gather the team
Understand the true goals of the project
Speak to end users
Map the current state
Ideation sessions with users, stakeholders and contributors
Initial sketches and paper-style prototypes
Validate initial prototypes with end users and stakeholders
Evaluate scope and goals taking into account learning
Adjust prototypes
Reviews with developers as direction solidifies
Design screens with dev specs
Create design system
Spend time in development environment
Design QA as developers complete work
Monitor metrics and adjust post launch
Making sense of complex space
Good scoping helped us know where to start
Step one: meet with stakeholders. Next, we approached key users and start building relationships.
Projects start with stakeholder meetings, and review of notes.
After a quick scoping exercise, the team decided that the structure of the site was the first area that needed to change.
A more focused site would allow the small (but mighty!) team to channel our energy into the highest-engaged parts of the app.
We started this phase of the project in google sheets. We mapped each part of the site by analytics rank and pageviews over the last 30 days.
What emerged from this exercise was a rubric for making decisions (analytics and page views), as well as a tighter, more focused app. It also lead us into the next step in the process, a navigation redesign
We decided to adapt Google's Material Design standards to our needs.
At the time, Material was new and didn't have standards for a 3-level navigation, so we innovated a solution.
Further refining the app
Data grids make up a huge part of the application. We took Google's nascent grids and supercharged them for an enterprise use case.
Adapting data grids to the enterprise space was a fun challenge. Based on my work with LeanDNA, I created an animated template for data grids that I've since adapted in many other projects.
Charts were redesigned to be readable and packed with useful information.
Smokestack and trend line charts were two of the most common charts in the LeanDNA app. We iterated on the design of these charts until we had something that would work across data sets.
Common trendline charts got updates as well.
These kinds of charts were extremely common in the LeanDNA app.
A style guide cemented the vision for the UI and brand.