Solution overview
Turnkey was well into funding rounds in the $10s of millions and yet had not fully developed its visual brand. Compared with companies of a similar size, Turnkey's visual presence didn't capture the elevated experience and service that TurnKey could provide both guests and owners. A complexity of the redesign was that guests and owners had completely different service experiences and expectations. Luckily both came from the same customer segment so aspects of an elevated brand could work across customer types.
CompanyTurnKey Vacation RentalsYear2017My workLead design team (internal and contract), presented to board of directors, worked with content strategists. As an individual contributor: competitive research and analysis, managed design contractor, web design, brochure/print design, logo design, video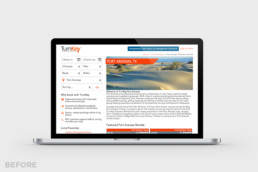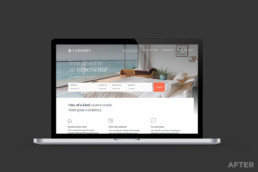 Examples of the new brand in use
Some samples of updated branding from the project
Stakeholder meetings emphasized the target audience in broad strokes; 'mass affluent' consumers for both guests and owners.
This segment was broadly defined as having disposable income not just to travel for vacation, but also to spend money on experiences, upgraded amenities, and more upscale properties.
The project plan started by defining our values, positioning, and history. Once we had alignment on the core brand attributes, we would decide on key outcomes. We would conduct research to validate our assumptions and get a sense of visual communication within the travel industry. With the brand structure in place and research complete, we could move forward with a visual update confident in our approach.
We evaluated values, positioning and messaging pillars.
Getting alignment on these items helped the team start with why and work from the inside out. In a redesign effort, values and other stances are like the vertical layout grid in a website design - they create an unseen structure that helps guide the design effort to success.
We created a basic research plan. We needed to answer a few questions to help us create a new brand that connected us with our ideal customers, and which differentiated us from our competitors
We decided on three types of research to help answer a key question. How to build an elevated brand that targets the 'mass affluent' consumer segment while differentiating TurnKey from a wide spectrum of Competitors. We decided on a few methodologies to help us answer these questions: a competitive analysis would give us an overview of visual communication in the industry; a heuristic analysis focused on color would give further visual information about the industry; and a survey would give us a broad look at the aspects of vacation rentals that our ideal customer valued.
First we did a competitive analysis of competitors that targeted roughly the same customer segment.
This answered the differentiation question - knowing the range of visual communication styles in the industry helped us know where we could find opportunities to stand out.
We completed a heuristic analysis of brands' color usage across the travel and vacation rental industry
This further answered the question of how our brand colors could help TurnKey differentiate from competition.
We used purchased survey data to help us understand the value that our customer segment placed on different types of amenities.
This data would help us as we got further into the redeisgn process. We wanted to target people familiar with vacation rentals, as well as people unfamiliar with vacation rentals who might be open to trying one out. If a particular experience or amenity was important to those guests, we could weave it into the brand narrative, especially the guest-facing website.
Better price than a comparable hotel
Free WiFi
Knowing exactly what the property was like
Home-like amenities
Better location
Ability to pay online
Travel with a large party
Hotel-like amenities
Daily cleaning service
24-hour on-site customer support
Factors that would make a non-renter consider a vacation rental. From Phocusrite's 2016 study "A Market Transformed: Private Accommodations in the U.S."
We borrowed customer segmentation from the hotel industry to help us name our guest segment and refine our approach.
The hotel industry is highly segmented by travel type and customer demographic information. We borrowed terminology, decided on a segment, and did further research on the types of offers hotels gave each segment. This visual information fed into our approach to the visual part of the rebranding effort.
For additional visual inspiration, we collected images from upscale magazines to have a broad view of media consumption by the 'upper upscale' consumer segment
We hired a visual design contractor to execute an initial vision of the redesign
What I learned
I've always been someone who enjoys learning - and besides focusing on UX design, I've always enjoyed a strong secondary skill set as a visual designer. So when the opportunity came up to take a first try at the visual brand, I attempted to do the visual design.
This ended up being a mistake that cost us time. I wish I had searched harder for a talented freelancer - I know we could have found someone (as we later did). Letting this person drive the initial design ended up giving the project back its momentum. I was able to take their design and execute it across channels (website, mobile, print, etc.)
Rebranding across channels
It's easy for rebranding projects to have amazing final presentations or briefs. It takes daily work and an eye for execution to extend a rebranding effort across an entire brand. It's important to remember that accountants, field operations specialists and data analysts appreciate having access to brand colors and typography inside of excel, google slides and more.
We created detailed brand guidelines
Knowing that there'd be lots of people working on the visual brand (designers, photographers, contractors and more) we created detailed brand guidelines. We created a library where people could go to download resources like fonts, logos, brand color libraries and Google slide decks.
We took new photos of our customer-facing service team.
Using new photos of the team and our in-home technology, we created high-end magazine-style brochures to help attract owners to our service.
We didn't neglect internal teams - we created downloadable on-rband MS Office swatches for the data analytics and accounting teams
We designed an updated deck to evangelize the new brand widely